Safety in Zones of Road Construction
The main causes of deaths and injuries at construction zones are:
Speeding traffic – the number one cause of death and injury in highway construction work zones.
Inadequate signposting and lighting and drivers failing to notice road workers.
Drivers do not pay attention to work zone signs or flaggers indicating they should slow down or come to a stop
Drivers are distracted by cellular phone calls, conversations, and activities at the roadside and are not merging properly.
Drivers are driving right up to the last second and then try to force themselves in – if the other driver doesn't let them get in, they enter the work zones and endanger the lives of workers.
National awareness campaigns are one way to convey the message that out on road, orange-clad workers and orange cones mean "slow down". Experts say that an elementary grasp of colour-coded signs is crucial. Drivers should also be encouraged to follow the rules of the road through construction zones across the country.
Traffic enforcement is another way to improve safety. Many states in the US have greatly increased penalties for speeding through work zones. Tough new measures are implemented to encourage drivers to slow down and avoid the potentially deadly consequences of reckless driving through work zones.
Managing the Construction Zone
Roadworks operations need to be carefully planned and administered to avoid accidents. Most accidents with minor plant and equipment are caused by improper usage and poor maintenance. Management guidelines of construction zones are very comprehensive – we would, however, like to focus on a few examples of how effective management can limit the risk of accidental road accidents:
Signs must be kept clean and well maintained if they are to be effective.
Press and radio releases are often a valuable means of warning drivers of what to expect at a site, thus minimising impatient and dangerous behaviour. [This is also good PR!]
Workers who control traffic must be properly trained.
Traffic controllers must know where to stand, how to slow or stop traffic, and how to coordinate public and construction traffic movements.
Controllers should use two-way radio communication when visual contact between traffic controllers is not possible. Where the site is suitable and they are available, arrangements should be made to use temporary traffic signals to control traffic.
Traffic controllers and general road workers should wear suitable conspicuous clothing to ensure that they can be seen by motorists
Unnecessary traffic control signs or road markings must be removed as they tend to confuse motorists and make them careless.
Where vehicles are held up in queues, a worker might be appointed to talk with motorists, apologise for delays, estimate the length of the delay, and generally keep people informed.
Speed limits should be consistent with safe site operations and traffic movements.
Compliance with reasonable speed limits will then be more likely – If motorists perceive a speed limit to be unrealistic, they are likely to disregard it.
A variety of devices and technology can provide information to motorists, including brighter, bigger electronic signs.
Trucks which are regularly used for transporting workers should be closed, have seats which are attached to the vehicle and have a safe means of access and egress. Drivers of trucks carrying passengers should be alert, dependable and careful.
A systematic preventative maintenance programme should be established for all trucks, plant, and vehicles.
All access points leading to the area where construction blasting works are carried out must be manned to prevent entry during blasting.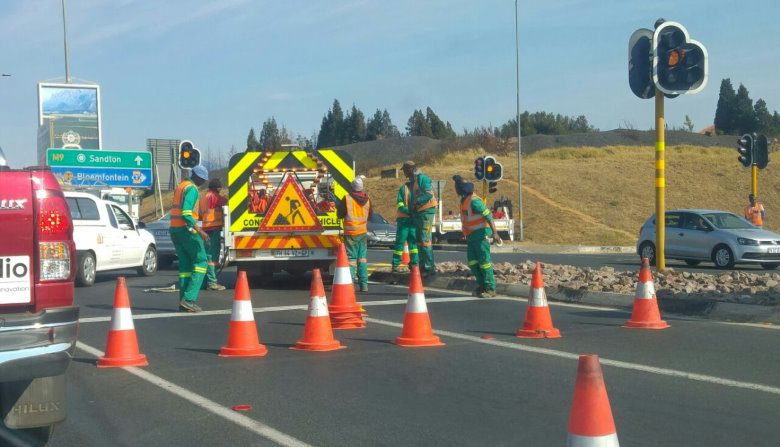 Road Safety for workers at construction zones
Construction and road workers confront not only the threat of oncoming traffic but a constant barrage of bottles and abuse from enraged motorists. It is important to understand the importance of road work and maintenance and respect the road workers and their right to safety.
In addition to the ever-present danger of traffic accidents, road workers are prone to heat stress, hearing problems, and occasional respiratory distress. Working on sites packed with roaring equipment can take a heavy toll on these workers.
A number of safety measures are taken to protect both workers and motorists alike.  These include modern flagging operations; use of concrete median barriers; bright orange cones and barrels to separate traffic from workspace; highly reflective sheeting on orange work zone signs; rumble strips to alert motorists to road conditions; and reduced work zone speed limits with dedicated police enforcement.
The safety and well-being of road workers can be improved with the following guidelines:
Wearing sunscreen, a hat, and long-sleeved shirts to protect from sunburn, dehydration, and overheating.
Drinking a cup of water every 20 minutes or so in very hot weather to help prevent dehydration.
Managers should ensure that new employees are prepared to work in all types of traffic – They should feel comfortable using flagmen – workers who use flags to signal drivers and warn them that they're approaching a work site -and have enough road sense to never turn their back to oncoming traffic.
New workers should be taught how to manoeuvre around massive pieces of equipment and to safeguard a site for optimal security
Use protective equipment and personal protective gear (such as hard hats and steel-toed shoes).
Reflective clothing is also crucial, especially for night shift work.
Noise levels should be monitored at all times to prevent hearing loss – it is suggested that workers wear earmuffs or earplugs to shield their eardrums from high decibels.
There should be training in how to set up a safe work zone – You can't just get out there and flag and yell, 'Slow down,'" .There's a way to properly instruct vehicles to slow down and away to set up a work zone.
Workers should be constantly reminded to remain vigilant and alert!