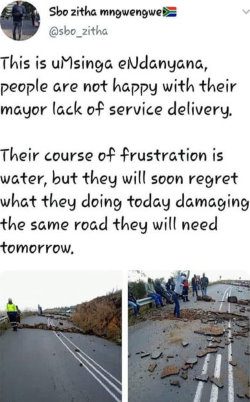 KwaZulu-Natal MEC for Transport, Community Safety and Liaison Bheki Ntuli has tasked law enforcement agencies to step-up their efforts and ensure that law and order prevails in Pomeroy following anarchy as a result of service delivery protests in the area.
MEC Ntuli condemned the destruction of infrastructure and malicious damage to property after members of the community blocked the R33 and dug up the road in protest yesterday.
According to reports, angry residents who dug up the R33 are protesting over the provision of water and electricity, they are also demanding job opportunities from the uMzinyathi District Municipality and Msinga Local Municipality.
MEC Ntuli had tasked police to act swiftly and arrest suspects behind this act of criminality. Police have arrested three suspects for public violence, and they will appear in the Dundee Magistrates Court on Friday.
"We have directed police to act swiftly and arrest all those that have vandalised state infrastructure because we will not allow protesters to run amok and dig up our public roads as this will result in road accidents and fatalities. Furthermore, the Department of Transport has not budgeted for repairing the R33 as all funds have been set aside to build new roads and maintain our ageing road network. While community members have the freedom to exercise their constitutional rights to protest, they should do so within the confines of the law and without endangering the lives of law-abiding citizens," said MEC Ntuli.
MEC Ntuli said heavy police presence including public order police and local police have been deployed to monitor the situation in the affected areas.